Who we are
Office Angels started in London in 1986 and since then we have grown and have offices across the UK. We also have a team of people who work on Permanent roles and are home based. Our focus is on professional office roles at all levels and across all industries.
We are more than just recruitment to our valued clients, we aim to add value to their world of work by consulting on industry trends, and providing market insights and topical content. Our clients find us consultative, friendly and genuine. Providing a great service motivates each and every one of us. Service in in our DNA. Hard sales people are not a great fit us.

What makes Office Angels a great place to work?
Finding a good employer has never been more important. You have to click on many levels. Our interviewing process is for you to check us out as much as it is for us to get to know you. It's a two- way process. You can question us on anything. Many of our people have been here for many years so you're welcome to talk to them too.
We are proud to have been voted the 4th best company to work for in the UK 2020 by Great Place to Work. This was voted by our people. We score very high in camaraderie. Communication is key to us. We continually ask for feedback and every one of us shapes our company and we have a lot of fun too.
Speak with our team
If you are interested in joining the Office Angels team, we would love to hear from you. To learn more about internal roles, please contact us today at hello@office-angels.com.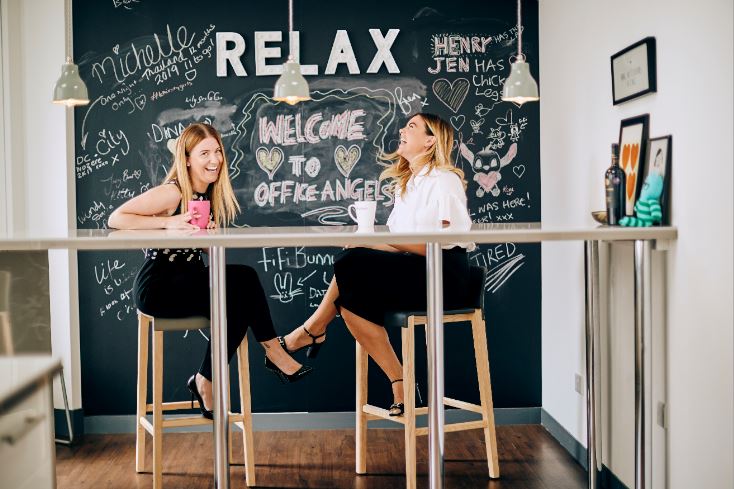 Here are a few other reasons why you'll want to work for us:
We offer a supportive and inclusive workplace for all
We can offer a career and even opportunities to work globally being part of a global organisation
World class training and development
A role created to suit you and us including flexible working arrangements
Our investment in recruitment tech will mean you are ahead of our competitors
Your Benefits
We offer an array of flexible benefits that you can tailor to meet your personal preferences, including:
A reward and benefit platform offering discounts on hundreds of retailers and the ability for you to choose what benefits suit you and flex them
Annual conference which brings together our family of brands to recognise the performance of our colleagues
Long haul trips for annual award winners
Incentive prizes such as fine dining, team nights out and vouchers for you to spend as you choose


Giving back to the community
We're passionate about adding value in the community through extensive fundraising and CSR initiatives. It's so important to us that Office Angels colleagues are able to give back in the ways they feel passionate about. Each colleague can take a paid day out of the office to volunteer for a cause or charity close to their hearts. As part of our sustainability journey, we plant a tree for every new Office Angels employee and every candidate we place in a new role.


Get in touch
If you would like to talk to us about a role within Office Angels, please get in touch at hello@office-angels.com and we will be happy to have a chat.